Jade Marsh
Edit
Write the first section of your page here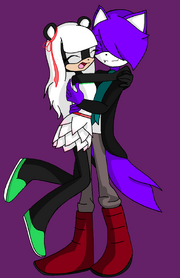 For the fact that Miss Jade is a 'Seedrian wannabe' she will always have ribbons in her hair and a dress made out of real flowers. Take her normal outfit as an example! its a dress that is a Lily (I think).
I (Alissa) adapted on this idea for her formal dress, for the fact that roses are seen a romantic stuff or something like that, I made her dress a rose (with matching shoes)
At the start of issue two the panda was quite upset at first when she couldn't wear a flower, but adapted
Ivie
to be as close as she could get. Ivie (who at the time was Jade) used her ear ribbons to create 'hoop ponytails' apart from that, there wasn't much of a change.
Ad blocker interference detected!
Wikia is a free-to-use site that makes money from advertising. We have a modified experience for viewers using ad blockers

Wikia is not accessible if you've made further modifications. Remove the custom ad blocker rule(s) and the page will load as expected.